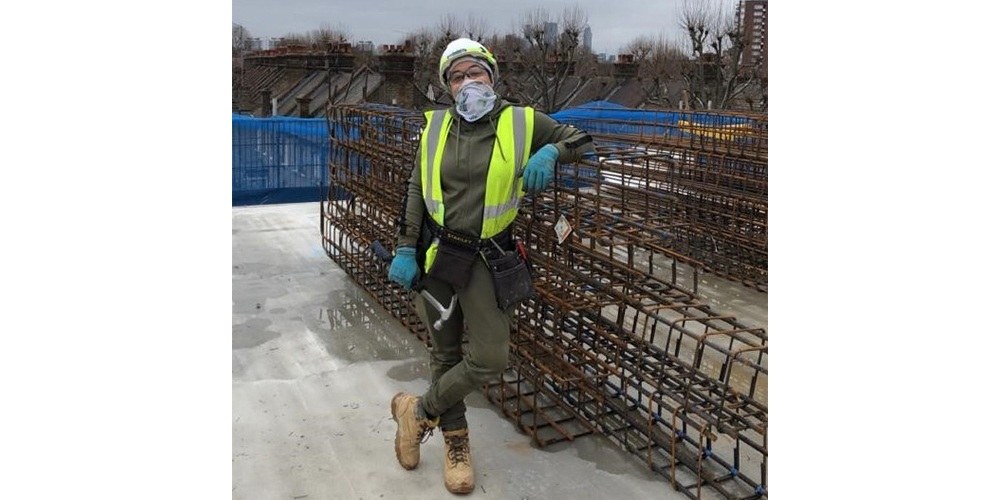 ---
More than 60 Southwark residents have started apprenticeships on the Aylesbury regeneration project since Notting Hill Genesis started working on the programme in 2014.
To celebrate National Apprenticeship Week (8th – 12th February), we've spoken to two apprentices who are currently working on Aylesbury regeneration sites to find out more about their experiences.
Chantelle (pictured) secured an apprenticeship as a formwork carpenter on the Plot 18 construction site with sub-contractor J P Dunn.
Chantelle was surprised that she was eligible for an apprenticeship as she thought they were only for people starting out in their careers. However people of all ages over 18 years old can apply to become a construction apprentice on the Aylesbury regeneration.
Chantelle says, "I would 100% recommend apprenticeships. They're a great way to get your foot in the door. I'm learning a new trade, gaining a qualification and I get paid as well. There's lots of problem solving in my role, which I like, plus it keeps you fit too. I get a great sense of satisfaction when you see what you've created."
In her career, Chantelle has experienced the challenge of being the only female on construction sites. However, offering advice to women who are unsure about whether a career in construction is for them, Chantelle says, "As a woman, I would say you can do anything you put your mind to - don't let anyone tell you that you can't!"
Meanwhile Stanley is a document controller for Hill on the First Development Site. He had thought that he would like a career in construction but wasn't sure what route to take. Therefore he jumped at the opportunity to apply for an apprenticeship as it would enable him to find out more about the world of construction and get some inspiration about potential career paths.
Stanley says, "Everyone has been really supportive and helpful, and I have also been able to shadow some members of the team." Having had that experience, Stanley is now planning to train as a Quantity Surveyor and has a good idea of how he is going to reach that goal. Stanley says, "I would definitely recommend apprenticeships. They're a great way to learn while making money."
There are currently a number of apprenticeship opportunities on the Aylesbury regeneration, with more to come through the lifetime of the regeneration.
Seabro (Vistry sub-contractor) are recruiting for scaffolding labourer apprentices on Plot 18. Candidates must live in the London Borough of Southwark and be aged 18+. Candidates will also need to hold a valid CSCS card and CISRS Operative Training Scheme (COTS) card.
To register your interest in these vacancies or find out about other upcoming opportunities, call Valerie Alaro on 07892 766804 or email Valerie.Alaro@nhg.org.uk.